A closer look: Comparing Chilly GOAT and Renu cold tubs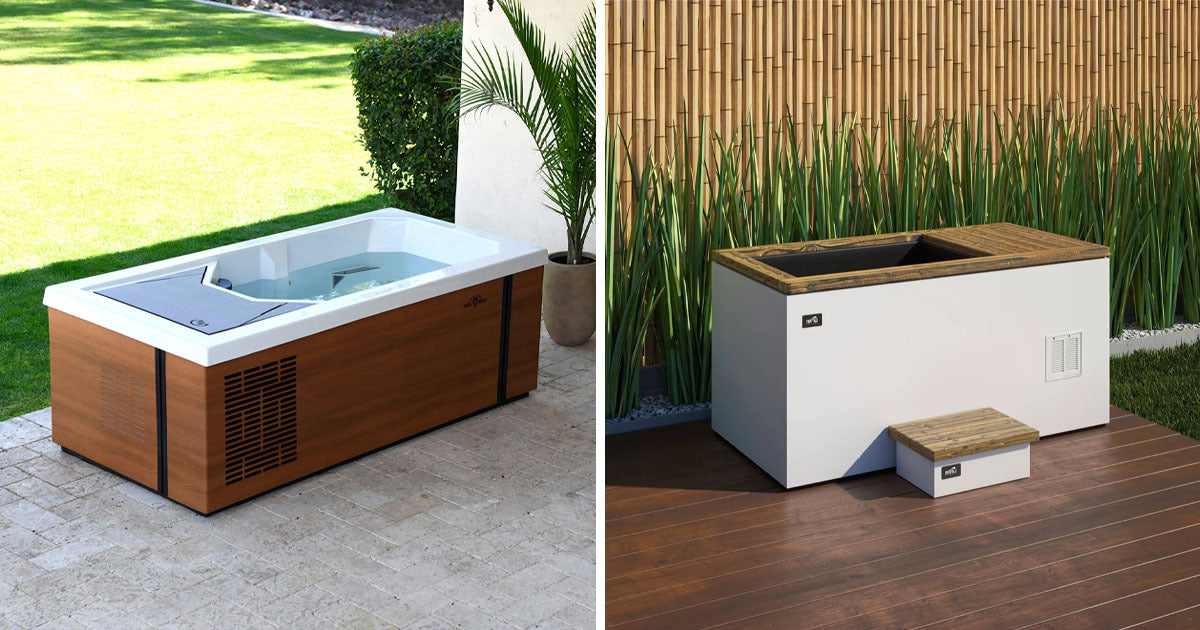 Cold water immersion might seem like the hottest health trend. However, it has a long history.
The use of cold water immersion as a treatment has been documented throughout history. The Roman physician Claudius Galen advocated for its use in treating fever, and this notion was later supported by physiologist James Currie, who personally utilized cold water for fever treatment. 
In more recent times, cold water immersion has become popular among athletes and the biohacker community as a means to enhance recovery, stimulate blood flow, and even alleviate muscle soreness. People are also using cold water therapy tubs to enhance metabolism, improve sleep quality, and strengthen the immune system.
But while cold pools and plunges were once a perk at fitness studios and an amenity at high-end resorts, there's a new market for cold plunge tubs. And more and more people install at-home cold tubs, so are the options and designs. Options range from trough-style tubs to spa-inspired products, with prices ranging from $1,000 to $20,000.
Two luxe-looking cold plunge tubs are Renu Therapy cold tanks and the Michael Phelps Chilly GOAT Cold Tubs by Master Spas. But while they might seem similar, it's important to go "under the cover" to consider other factors such as features, craftsmanship, and customer service.
In this cold tub comparison between the Chilly GOAT and Renu cold tank, we will help you choose the best cold tub for your backyard, home gym, or wellness room.
Comparing the Chilly GOAT Cold Tub and Renu Cold Tank
The evolution of cold plunge tubs signifies a shift in how people approach cold water therapy. People want more than to settle for a cold shower in the morning or fill their bathtubs with a hundred pounds of ice. Instead, they want a more practical solution to encourage a daily cold water exposure practice.
But with a growing number of options, it might feel overwhelming to compare cold plunge tubs. Which model is best? Which is the easiest to take care of? What is the warranty offered by each brand, and what does it cover? What kind of customer support and service options do different cold tub brands offer?
 While the Chilly GOAT Cold Tub and Renu cold tank can appear similar and bring home the benefits of cold water therapy, there are distinct differences.
Brand overview
Michael Phelps Chilly GOAT Cold Tubs by Master Spas is one of the newest cold water therapy products on the market. Launched in July 2023, the cold tub was designed in collaboration with legendary swimmer Michael Phelps.
However, Master Spas has nearly three decades of manufacturing experience and is the world's largest swim spa manufacturer. Recognizing their commitment to quality and innovation, Phelps reached out to long-time Master Spas to develop a cold tub. Master Spas was founded in 1996, and it is the largest spa manufacturer with all of our operations in the United States.
Renu Therapy was founded by outdoor enthusiast Bill Bachand in 2020. Bachand had been on a ski trip when he decided to take the plunge into the icy waters of an old spa. The cold water left him feeling rejuvenated and, just three months later, the first Renu Therapy cold tank hit the market.
Features
The Chilly GOAT Cold Tub boasts a 2.1-hp chiller with a temperature range of 40 degrees to 104 degrees. Its versatility allows users to customize their experience according to their preferences. You can select a heating mode to increase the water temperature. Alternately, you could select the cooling mode for cold water therapy. 
The larger chiller of the Chilly GOAT Cold Tub is better equipped to maintain a consistent temperature, especially when multiple people are going for the cold. The system can heat and cool the water faster, when compared to a smaller system. And for people who live in warmer climates, the chiller's horsepower is especially important. The 2.1-horsepower chiller of the Chilly GOAT can maintain the set cold temperature in hot climates compared to other cold plunge tubs.
In addition, Chilly GOAT cold tubs  feature standard LED lighting and dual-flow jets. The LED light, which has a range of hues, can be turned on for an evening soak or just to add some ambiance. To turn on the lights or change the color, you simply press a button. The jets help to move the water throughout the tub, preventing you from developing a thermal barrier.
 In contrast, Renu Therapy cold models have a 1/4 horsepower chiller and lack the option for different temperature modes like the Chilly GOAT. If you buy a Renu cold tank, an LED light is considered an upgrade and costs $319.99.
 

Customer-focused design

 The Michael Phelps Chilly GOAT Cold Tub is designed with comfort and ease of use in mind. It features a safe and easy entry and exit, eliminating the need for a step. The soft tread flooring system not only provides grip but also adds cushioning. The built-in seat, with a 25-inch wide hip area, and armrests add to the design — making the uncomfortable comfortable.

On the other hand, Renu's cold tanks require a step, and the smaller tank area doesn't allow users to fully stretch out.
Cold tub cost
In terms of pricing, the Renu Therapy Stoic 2.0 is priced at $9,699.99 without any upgrades. On the other hand, the Chilly GOAT Cold Tub is priced at $8,495, which includes shipping, a deluxe insulated cover with safety locks, and a year's worth of chemicals.
Sanitization and maintenance
The Chilly GOAT Cold Tub stands out when it comes to sanitization. It utilizes UV light to kill bacteria, ensuring a clean and hygienic experience. There is also a filter, which helps trap dirt and other debris from moving through the water. If you choose a Chilly GOAT, you should expect to use a small amount of chemicals to keep the water sanitized.
On the other hand, Renu Therapy models use an ozone system, which may be corrosive in smaller spas and cold tubs. Renu claims that it does not need chemicals in 90 percent of environments. However, the company recommends using a sanitizing stick and an oil and dirt absorbing buoy.
People use cold tubs for recovery and relaxation, and you want that water to promote overall wellness. When the water is properly sanitized, you can feel confident that it is safe and free of contaminants like bacteria that can grow in untreated water.
When it comes to maintenance, the Chilly GOAT requires minimal effort. The cabinet can be easily sprayed down with a garden hose, making it convenient and hassle-free. In contrast, Renu Therapy's wood deck requires maintenance with outdoor defense oil and wax. The Chilly GOAT's low maintenance requirements make it a more practical choice for users.
Customer service and warranty
Master Spas, the manufacturer of the Chilly GOAT, takes pride in ensuring customer satisfaction. They have a dedicated customer service team based in Indiana, making Chilly GOAT ownership easy and convenient. They offer a library of maintenance videos that guide customers through the ownership process, providing additional support and assistance.
While Renu Therapy boasts a 5-year warranty, it is limited and only applies to defects found on the cold tank. In comparison, Chilly GOAT Cold Tubs by Master Spas have an industry-leading warranty that reflects their commitment to quality and durability. Each unit undergoes rigorous testing at the factory, ensuring its performance and longevity. With the Chilly GOAT, customers can enjoy peace of mind, knowing their investment is protected.
Choosing the Best Cold Tub
Do you want to enjoy the benefits of cold water therapy without buying bag after bag of ice? Having a Michael Phelps Chilly GOAT Cold Tub by Master Spas allows you to realize the impact of cold water. Enjoy clean, clear, cold water on demand.  You can click here to find out more about the benefits of incorporating a Michael Phelps Chilly GOAT cold tub into your routine. Start your journey today!
---