Chilly GOAT vs. BlueCube: Which cold tub is right for you?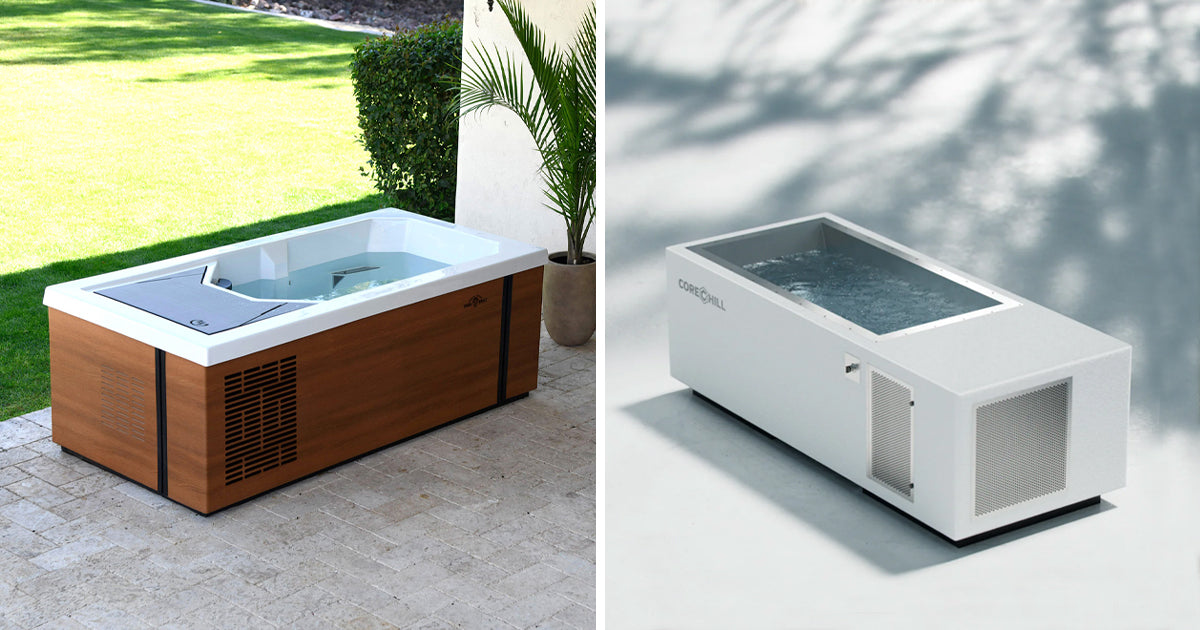 Cold water immersion is no longer sitting on the sidelines of your favorite sporting events. It's going to the gym, the wellness center, and even the backyard. Recreational athletes and biohackers alike are embracing the benefits of cold water immersion and investing in their recovery. An at-home cold tub allows them to conveniently incorporate cold therapy into their regular routine.
But as cold water therapy becomes more mainstream, there are more at-home and commercial cold plunge options for people to choose from. There are collapsible tubs, inflatable models, and spa-like plunge tubs that elevate the overall experience. 
Two often-compared options in the market for cold tubs are Michael Phelps Chilly GOAT Cold Tubs by Master Spas and the BlueCube cold plunge tubs. From design to construction, there are distinct differences between the brands, though. 
And spoiler alert: The most expensive plunge tub is not necessarily the best for your cold water journey.
Comparing the Chilly GOAT and BlueCube cold tubs
The concept of cold water bathing is nothing new — even if it feels that way. In 1697, physician John Floyer wrote about his own cold regime, which included giving up liquor, tea, and coffee and bathing at Buxton, a mineral bath where people could enjoy cold water. 
But there has been a notable shift since then (obviously) with more people seeking an at-home solution for dipping into cold water. And they want it to be more beneficial than a chilly shower and more convenient than filling their bathtub with a hundred pounds of ice. 
However, given the increasing variety of options available, the process of comparing cold plunge tubs can be overwhelming. Questions arise: Which model stands out as the best choice? Which one is the easiest to maintain? What warranties are provided by various brands, and what do they cover? What levels of customer support and service are offered by different cold tub brands?
Comparing the Chilly GOAT Cold Tub and the BlueCube, one must decide which is the best (and most practical) investment in their overall health and well-being.
Ergonomic design
The experience of cold water immersion might not be comfortable but you want your cold tub to be comfortable to use. An ergonomic design can enhance the overall experience of using the cold plunge tub. It can encourage you to relax and just focus on the therapeutic and mental benefits of cold water exposure — rather than trying to find a comfortable position or seat within the tub.
The Chilly GOAT Cold Tub was designed in collaboration with Michael Phelps. The legendary swimmer wanted to create a cold tub that allowed him, at 6-foot-4, to plunge comfortably. The built-in seat, with a 23-inch wide hip area, and armrests of the Chilly GOAT are a reflection of that desire for comfort. There's also SoftTread Nonslip Comfort Flooring thoughtfully applied on areas of the tub, providing grip and cushion while entering, soaking, and exiting the cold tub.
On the other hand, BlueCube's cold plunge baths are made from 14-gauge stainless steel. The stainless steel might be considered durable, the utilitarian design, cuboid shape, and screws on the flange may not be aesthetically pleasing or comfortable for some users. 
It's important to consider that the design and whether it feels inviting can increase the likelihood that users will continue to use the cold tub regularly. This consistency is key to realizing the health benefits of cold water therapy in the long term.
Temperature control
A cold tub isn't a cold tub if, well, it can't go cold. Research shows that you can begin to see the therapeutic benefits of cold water when the temperature is below 60 degrees Fahrenheit. And while the practice of plunging can attract the "hard core," you don't have to break off a layer of ice to benefit. Indeed, the best temperature for cold water therapy will depend on your personal physiology, whether you are new to the protocol, and how long you want to spend in the water.
Chilly GOAT Cold Tubs have a temperature range of 40 degrees to 104 degrees, maintained by an industry-best 2.1-horsepower chiller. BlueCube cold baths have a temperature range of 37 degrees to 70 degrees, and it is maintained by a 1-horsepower chilling motor. 
The larger chiller of the Chilly GOAT Cold Tub is better equipped to maintain a consistent temperature, especially when multiple people are going for the cold. The system can heat and cool the water faster, when compared to a smaller system. And for people who live in warmer climates, the chiller's horsepower is especially important. 
The option of switching between cold and hot allows for a more versatile product. For example, you might want to keep the Chilly GOAT at a colder temperature while training for a marathon. Once your race is complete, you might want the relaxation of a hot tub. 
Thermal barrier and other features
For cold water therapy, most people will set the water temperature between 40 degrees and 59 degrees. A person's average body temperature is 98.6 degrees — a big difference from the water. As you soak, your body will begin to lose heat to the water, actually increasing the temperature of the water. The result is a thermal barrier, or thin layer of warm water around your body. 
The thermal barrier is your body's way of protecting itself from the cold, helping to prevent hypothermia or cold shock. But when you are practicing deliberate cold exposure, a thermal barrier can negatively affect the benefits.
Both Chilly GOAT and BlueCube cold tubs have methods of disrupting the thermal barrier. Chilly GOAT models have dual flow jets, which gently move the water around the tub. BlueCube has a three-speed system to disrupt the thermal barrier. This system is powered by a 3/4-horsepower jet pump, and it is "river-rated." On the highest speed setting, the water can look like the choppy, frigid waters of the north Atlantic. But it only takes a gentle flow of water to prevent a thermal barrier. A stronger current could be considered as unnecessary and an added discomfort.
The Chilly GOAT, though, has features beyond the dual flow jets. There is also LED lighting and WiFi capabilities. The LED light offers a range of colors, perfect for illuminating the water in the early morning. To activate the lights or switch colors, you just press a button.
Cold tub cost
In terms of pricing, the Alpine model from Chilly GOAT Cold Tubs is priced at $8,495, which includes shipping, a deluxe insulated cover with safety locks, and a year's worth of chemicals. By comparison, the CoreChill model from BlueCube is $17,999 and the larger XL is $23,999. Shipping is not included for any of their products.
Cold tub water care and maintenance
People use cold tubs for recovery and rejuvenation, and you want that water to promote overall wellness. When the water is properly sanitized, you can feel confident that it is safe and free of contaminants like bacteria that can grow in untreated water.
The Chilly GOAT Cold Tub stands out when it comes to water care. A UV light helps to kill bacteria, ensuring a clean and hygienic experience. There is also a pleated filter, which helps trap dirt and other debris from moving through the water. If you choose a Chilly GOAT, you should expect to use a small amount of chemicals to keep the water sanitized.
On the other hand, BlueCube models use an ozone system, which may be corrosive in smaller spas and cold tubs. And you'll certainly smell the ozone gas when you remove the cover and hop in. The tubs also come with a cylindrical washable filter and micron 5-10 filter balls. The filter balls are intended to replace sand in a pool filtration system.
When it comes to maintenance, the Chilly GOAT requires minimal effort. The cold tub itself is made of reinforced acrylic — the same surface material used for Master Spas' premium hot tubs and swim spas. The surface can be wiped clean with a microfiber cloth and, if needed, a vinegar-based household cleaner. The durable, all-weather cabinet can be easily sprayed down with a garden hose, making it hassle-free. 
Select BlueCube models have a wood deck and frame. These materials need to be oiled every month to maintain optimal condition. This step is especially crucial if the cold plunge is installed outside or in a humid environment. In addition, the company requires owners to maintain a video record of maintaining the deck in order. Otherwise, the warranty might not be honored.
The Chilly GOAT's low maintenance requirements make it a more practical choice for users.
Customer service and warranty
Master Spas, the manufacturer behind Chilly GOAT, places a strong emphasis on delivering top-notch customer service. The company has more than 25 years of spa manufacturing experience, and it is the world's largest swim spa manufacturer. All Master Spas products are built in the United States. The company also has a dedicated customer support team in Indiana, making Chilly GOAT ownership convenient and hassle-free. 
On the Chilly GOAT YouTube page, you can find a library of videos that guide you through the ownership process — from what to expect upon delivery to how to balance the chemicals. There is also assistance and support throughout the ownership journey available on the website.
In contrast, BlueCube does not have resources for owners available on its website nor can you review the owner's manual online. The company does not have video tutorials available, either.
BlueCube offers a 5-year warranty on the frame. There is an 18-month warranty on Chilling Motor and pumps. On the other hand, Chilly GOAT Cold Tubs by Master Spas proudly offer an industry-leading warranty that underscores their commitment to quality. Each unit undergoes rigorous testing at the factory to ensure peak performance and durability. 
With the Chilly GOAT, customers can rest easy, knowing that their investment is fully protected.
Choosing the Best Cold Tub
Do you want to enjoy the benefits of cold water therapy without buying bag after bag of ice? Having a Michael Phelps Chilly GOAT Cold Tub by Master Spas allows you to realize the impact of cold water. Enjoy clean, clear, cold water on demand.  You can click here to find out more about the benefits of incorporating a Michael Phelps Chilly GOAT cold tub into your routine. Start your journey today!
---