The ultimate gift for every cool character in your life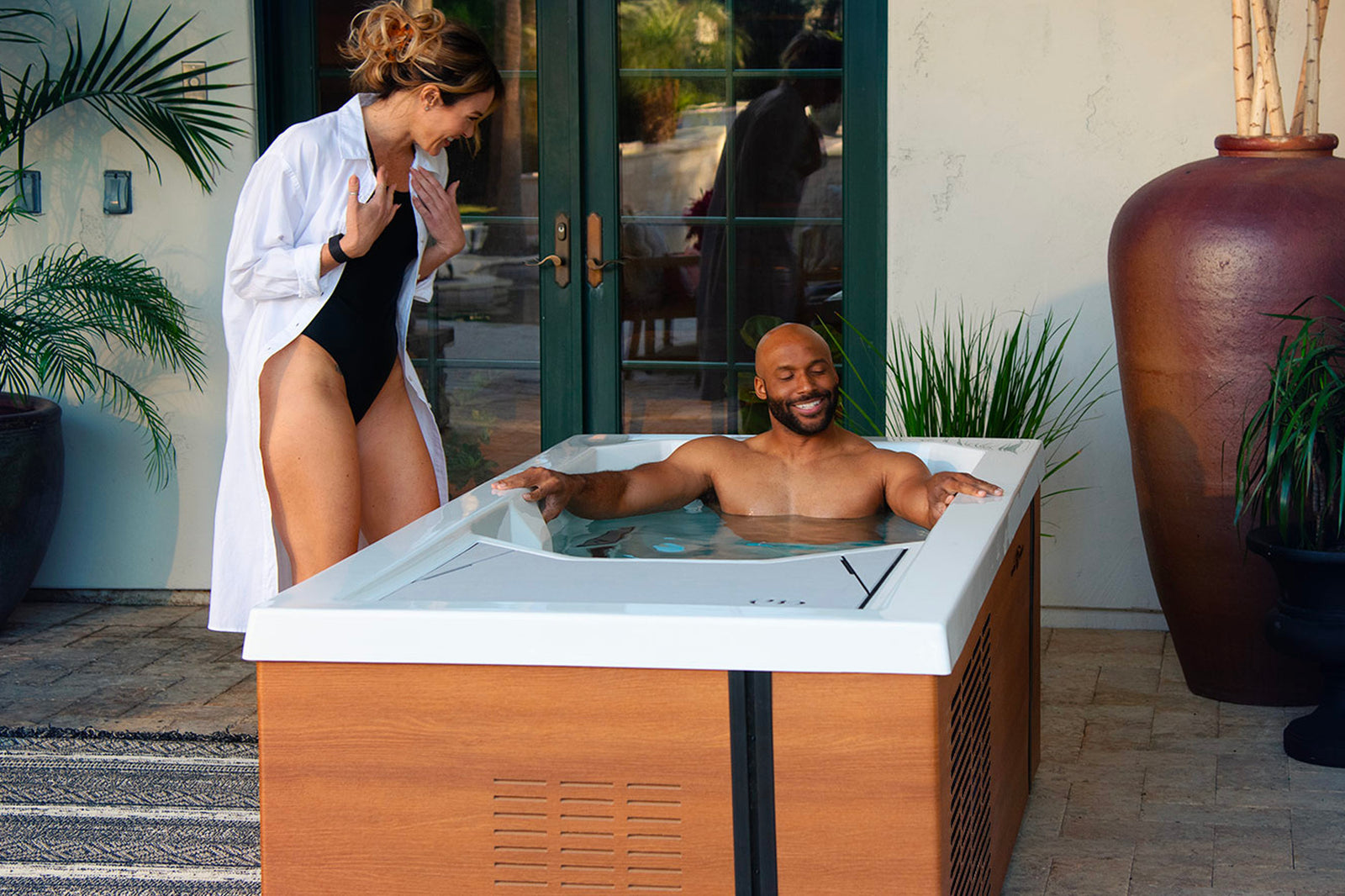 It might be tempting to believe that your cold-loving friends and family only need ice, water, and a tub to feel their best. But as the holiday season approaches, it opens up the perfect opportunity to elevate their chilling experience with some essential gear. 
But it's not just about giving the absolutely greatest gift, although we won't discourage it. Consider cold tub accessories that match their personality while enhancing the cold immersion and recovery process.
From the person who doesn't think water can ever be too cold to the person who loves data, there's a range of thoughtful gifts that promise both utility and delight. After all, the gear that enhances their chilling routine deserves the same level of attention as the tub itself.
The coolest gift guide for the holidays
Want to spread some holiday cheer this year? Give the gift of cold water.
We're serious. Really.
Cold water immersion can make you happier and feel better, even during the holiday season. And we're guessing that at least one person on your list has dipped their toes into the popular practice of cold plunging. 
Whether you are shopping for a loved one or treating yourself, this gift guide will help you find the ideal present for every cold water immersion enthusiast on your list. With the right equipment and accessories, you can take your cold water experiences to the next level, making it easier to embrace the chill and reap the myriad benefits it offers.
The numbers enthusiast
Cold water immersion has been studied extensively, and its effects on the body are measurable. Metrics such as heart rate, blood pressure, and power output can all be tracked and analyzed. 
And for the person who geeks out over that data, poring over spreadsheets with split times and training sessions, cold water immersion is a way to hack their recovery. From choosing the temperature to the duration, they can dial in your cold tub experience and track their bodies' responses.
This holiday season, you can enhance their Chilly GOAT experience with a digital thermometer and timer. They can precisely record the temperature and track their sessions in the Chilly GOAT Cold Tub. They can even take notes about whether it's better to plunge in the morning or the afternoon.  
It adds a scientific touch to their cold tub routine, allowing them to track and optimize their sessions with accuracy.
Cold-hater extraordinaire
Cold water immersion has myriad benefits — whether you are an athlete, fitness enthusiast, or just looking to feel better.
But just because cold water is good for you doesn't mean that you have to love it. (Although, we still recommend making it a regular part of your wellness routine.)
For the friend who perpetually shivers at the thought of cold, warm up their world with a cozy beanie and sweatshirt combo. This cozy combo is perfect for throwing on post-plunge to help you warm up. Or, to put on just because it's cold outside.
40-degree warrior
For every person who has a love-hate relationship with cold water therapy, there's a person who absolutely loves cold water. They love it so much that the water is never cold enough. 
For the one who considers 40 degrees "warm," a Chilly GOAT T-shirt is the ideal gift. Let them proudly showcase that they never need to wear a coat while showing off their love of going cold.
The practical pro
Do you know someone who would much rather have a grocery gift card than one for their favorite restaurant? The practical pros value gifts that are not just thoughtful but functional, too.
If you are searching for a useful gift for the Chilly GOAT enthusiast in your life, check out cold tub accessories. A six-pack filters and water care kit ensures that their cold tub remains a reliable and long-lasting part of their wellness routine. You can even treat them to a spa pillow so they can rest their head comfortably, even if the water is 42 degrees.
The hardest working person you know
He is the person who stays after class to do accessory work and never complains when burpees pop up on the daily workout. She is the person who doesn't cringe when a marathon training plan has mile repeats in the middle of a long run. 
There are people who just embrace the grind and love to work hard, whether it's during a workout, at home, or to better themselves with cold water immersion. 
For the individual who gives their all day in and day out, finding the perfect gift involves recognizing and supporting their relentless work ethic. Here's a carefully curated gift guide to show appreciation for the hardest working person in your life:
Give the gift of motivation with a Chilly GOAT trucker hat. Perfect for the person who isn't afraid of hard work, this hat is a stylish reminder of the benefits that come from pushing boundaries.
Distraction seeker: Bluetooth speaker
Sometimes the best way to get through a cold tub session is to try to forget that you are in a cold tub. Some people might like to focus on breathing or even zen out. But for others, the key is distraction. 
A well-curated cold plunge playlist can be the perfect way to pass the time. 
The Master Spas water-resistant Bluetooth speaker is the perfect companion for cold tub enthusiasts who crave a bit of distraction. Now, they can seamlessly stream their favorite playlist, transforming the chilly experience into, we dare say, a fun session. 
Warm-up skipper: Chilly GOAT Sweatshirt
You know who they are. The people who always seem to show up to class 5 or 10 minutes late and "miss" the warm-up. And while they might prefer to dive straight into the workout, their muscles might not be so appreciative. 
The Chilly GOAT sweatshirt is the ultimate cozy piece for those who run from the car to the gym and straight into an Rx effort. Or, those who want to stay cozy during the cool down and flexibility block. 
Just-chill advocate
For the person who just wants to chill and relax post-dip, gift them the super plush Chilly GOAT Towel. This towel is seriously soft, and it will become an instant favorite. It adds just that touch of comfort to their recovery routine while also being practical.
Cold and bold warrior
In the fast-paced world we live in, the gift of relaxation and recovery is priceless. With a Michael Phelps Chilly GOAT Cold Tub by Master Spas, your loved one can indulge in the therapeutic benefits of cold water immersion, promoting muscle recovery, reducing stress, and enhancing overall well-being.
Cold water immersion is an excellent mode of recovery for the athlete in your life. It can help reduce muscle soreness, inflammation, and promote overall physical well-being. Your loved one can enjoy the therapeutic benefits of cold water immersion from the comfort of their home.
In addition, using a cold tub has been shown to have stress-relieving effects. Plunging can trigger the release of endorphins, promoting a positive mood and helping to alleviate stress. It's a unique way to provide relaxation and tranquility.
This holiday season, step outside the traditional gift-giving box and surprise your loved ones with gifts that reflect their personality, as well as their dedication to health, fitness, and cold water immersion.
How to buy a cold therapy tub
Do you want to enjoy the benefits of cold water therapy without buying bag after bag of ice? Having a Michael Phelps Chilly GOAT Cold Tub allows you to realize the impact of cold water. Enjoy clean, clear, cold water on demand.  You can click here to find out more about the benefits of incorporating a Michael Phelps Chilly GOAT cold tub into your routine. Start your journey today!
---