11 questions to ask before buying a cold tub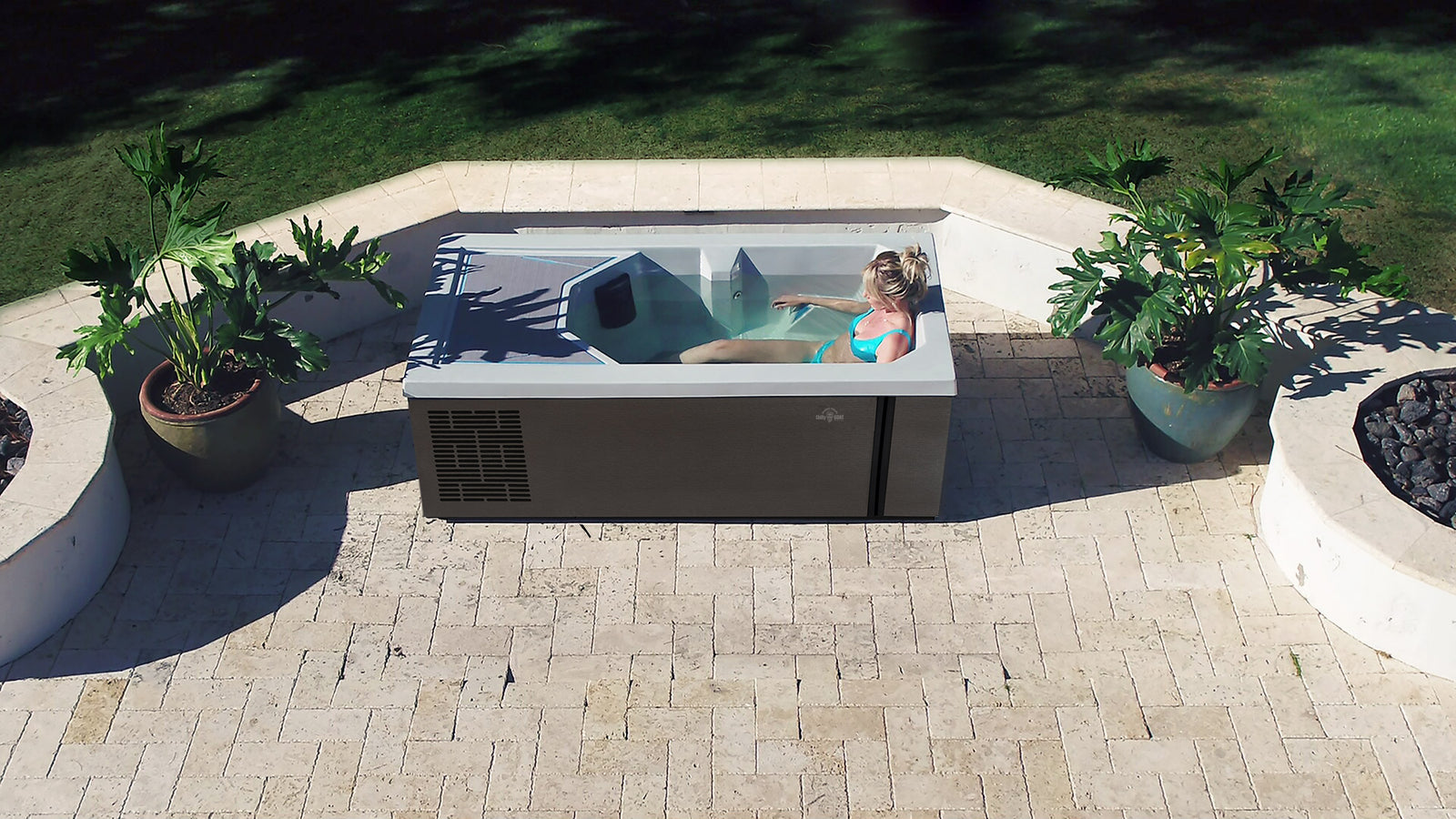 The hottest trend in wellness is giving people chills — literally. Everyone from Michael Phelps to JJ Watt to Lizzo have been seen hopping into cold water. Known as cold water immersion or deliberate cold exposure, the practice can ease muscle soreness, reduce inflammation, and improve mental focus among other benefits.
While plunging into cold water is nothing new, it has been rising in popularity as athletes, celebrities, and wellness influencers embrace the physical and mental benefits. Some are wading out into the ocean, others are adding bags of ice into a bath tub. Still others are choosing dedicated cold tubs that offer unlimited access to clean, cold water.
A growing market of at home cold tubs have made plunging more convenient than ever. But how do you choose the best cold tub? You want to make sure it not only fits your lifestyle but enhances it. 
Whether you have been plunging for years or are new to the ice bath craze, this guide will help you ask the right questions when comparing cold tubs.
Ask these questions before buying a cold tub
Once found at just pro training centers and exclusive resorts, cold tubs were more luxury than lifestyle. But to truly benefit from cold water, practitioners recommend incorporating it into your routine — whether it's after a sweaty gym session or before you start your day.
Dr. Susanna Soeberg, a prominent proponent of deliberate cold exposure, recommends that people plunge for 11 minutes a week. But rather than tough it out for 11 minutes, Dr. Soeberg suggests breaking it up into two to three sessions. 
From cold showers to cryotherapy to jumping in the ocean, there are myriad ways to practice deliberate cold exposure. But at-home cold plunges are efficient and effective. 
Cold tubs come in a variety of sizes, shapes, and styles. It's important to ask the right questions to get the best cold tub for you.
What is the installation and set-up like?
A cold tub can speed your recovery but not all models are designed for a speedy set-up and installation. Some cold plunges require owners to connect plumbing lines, inflate the tub, and install the chiller. 
Chilly GOAT Cold Tubs are designed to make the installation process a chill one. The five-step process includes checking connections, filling the cold tub, and plugging it in. Simply follow our set-up guide or check out the library of how-to videos on the Chilly GOAT YouTube channel.
How do you get the water cold?
An ice bath is just that — ice in a bathtub. 
But what about a cold tub? 
When you are buying a cold tub, you want to ask whether you have to add ice to the water to get it down to your preferred temperature. If the cold tub has a chiller, you also want to look at the available power. 
Chilly GOAT Cold Tubs have a 2.1-horsepower chiller that can quickly cool the water (or warm it up). With this built-in unit, you don't have to add ice to the water to benefit from cold water therapy.
Can you comfortably fit in the cold tub?
A significant advantage of choosing the Chilly GOAT is the range of sizes available, accommodating different user requirements. Whether you need a solo retreat or wish to share the rejuvenating experience with friends or family, there's a Chilly GOAT Cold Tub to suit your needs perfectly.
How safe is the cold tub?
When it comes to health and well-being, safety should be a top priority. The Chilly GOAT is built in compliance with relevant regulations and standards, ensuring a secure and worry-free cold therapy experience. DIY projects may not guarantee the same level of safety, potentially posing risks to your well-being.
What is the temperature of the cold plunge tub?
From reducing inflammation to improving circulation, cold water immersion can be a refreshing way to enhance overall well-being. However, determining the ideal water temperature for a cold plunge can be challenging since individual preferences and reactions to cold stimuli vary. 
Studies do suggest, though, that a temperature range of 50 degrees to 59 degrees is cold enough to elicit a response from the body while still being safe. Your cold tolerance can increase over time the more you use a cold tub. This phenomenon allows you to explore the benefits of colder temperatures gradually.
But when you are buying a cold plunge tub, you want to be able to choose your perfect cold temp and have a range as your body adapts. The 2.1-hp chiller of the Chilly GOAT Cold Tub has two modes: cooling and heating. You can chill the water to 40 degrees or heat it to 104 degrees — all from the convenience of your phone with the SmartLife app.
How do you keep the water clean?
Keeping the water of your cold tub clean is essential to a healthy, safe plunge. Chemicals such as chlorine, filters, UV lights, and more can help keep the water balanced.
However, not every cold tub has a built-in system for keeping the water clean. Without a filtration system, you will need to drain the water and refill the plunge tub more frequently.
Chilly GOAT Cold Tubs have a built-in water care system that includes a filter and UV light. The filter removes debris from the water, while the UV light kills bacteria. An insulated cover keeps out leaves and other elements when the cold tub is not in use.
Are there other features? 
Compared to some wellness products, cold tubs can feel utilitarian. It's a vessel for cold water. But some cold tubs incorporate features like LED lighting and WiFi connectivity.
Chilly GOAT Cold Tubs have features that elevate the plunge experience, including dual-flow jets and SoftTread NonSlip flooring.
Dual flow jets keep the water moving, preventing a thermal barrier. 

Built-in arm rests add an interior detail line while making the plunge experience more comfortable.

The flooring system adds a unique combination of comfort and traction.  

LED lighting illuminates the water, adding to the overall experience.
How is the cold plunge made?
Scrolling social media, it might seem like there's a new cold tub every day. But how do you know which cold tubs are made by a reputable company?
With the Chilly GOAT, Master Spas is building on its commitment to quality and innovation. The company is a leader in the spa industry and has more than 25 years manufacturing experience. Every cold tub is built in Fort Wayne, Ind.
The surface of the Chilly GOAT is made of acrylic and the cabinet is durable and can withstand the elements. The cold tub also features foam insulation, which helps keep the water at the right temperature.
Does the manufacturer offer a warranty?
When you invest in a cold tub, you are investing in your mental and physical well-being. And you want to feel confident in that purchase. A warranty can help give you peace of mind that you chose the best cold tub. Master Spas provides an industry-best warranty on Michael Phelps Chilly GOAT Cold Tubs. In addition, each unit undergoes rigorous testing to ensure performance and quality.
How can I benefit from a cold plunge tub?
Stepping into cold water can be a shock to the system. However, you might be shocked at the benefits you can see from regularly chilling in a cold tub.
Cold water immersion can benefit your physical and mental health. For athletes, cold therapy can help speed your recovery, improving your athletic performance and reducing the risk of injury. 
But it's not just athletes and fitness enthusiasts who can benefit from a cold water routine. Activating your nervous system, cold water can improve mental focus and reduce stress. Plus, plunging in a cold tub can boost circulation, improve sleep, and support your immunity.
How to buy the best cold tub
Do you want to enjoy the benefits of cold water therapy without buying bag after bag of ice? Having a Michael Phelps Chilly GOAT Cold Tub by Master Spas allows you to realize the impact of cold water. Enjoy clean, clear, cold water on demand.  You can click here to find out more about the benefits of incorporating a Michael Phelps Chilly GOAT cold tub into your routine. Start your journey today! 
---