Chilly GOAT on air: Skip Bedell segment on FOX & Friends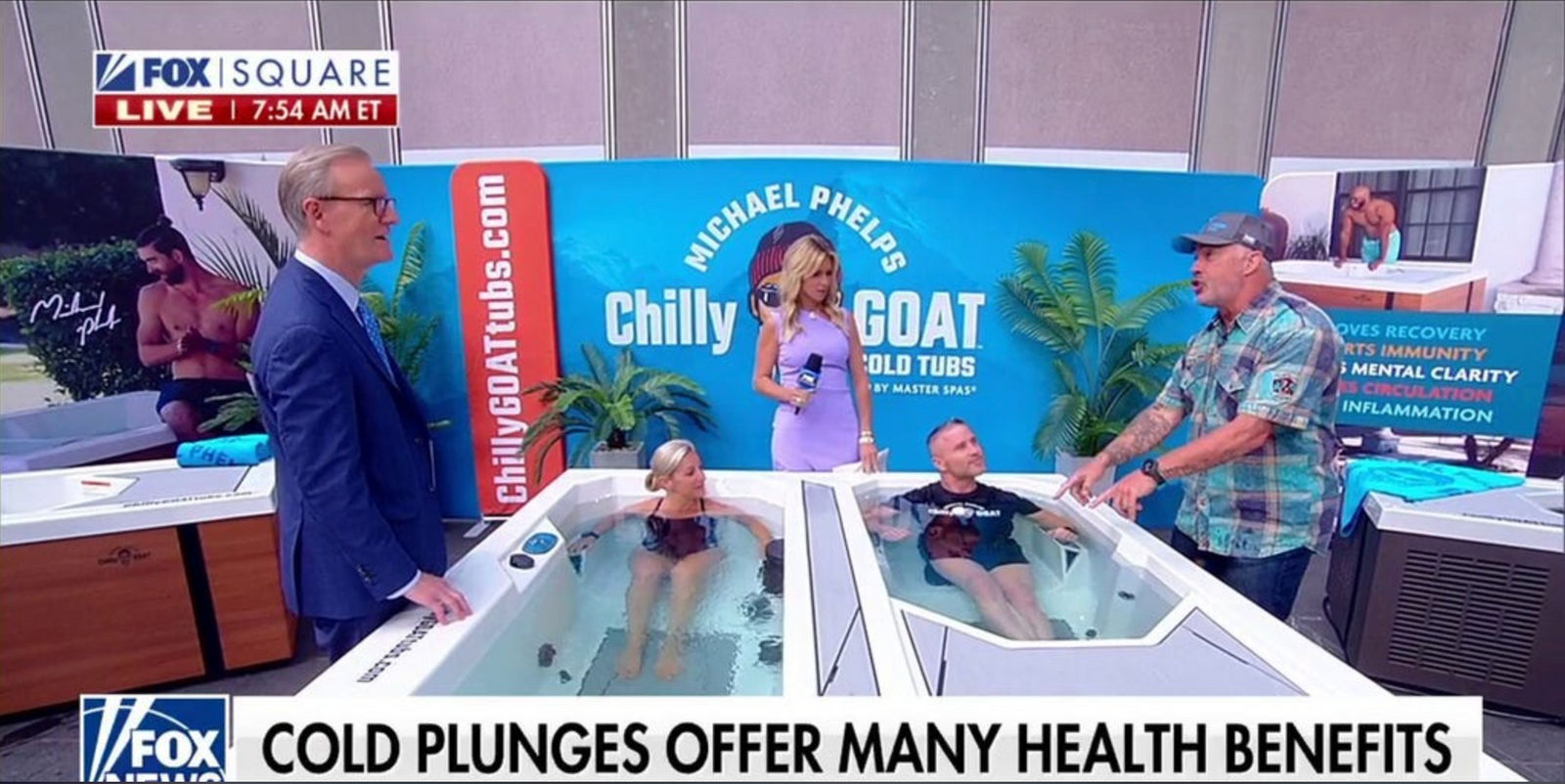 Manhattan, New York — In a chilly start to the day, TV personality and home contractor Skip Bedell, accompanied by the Master Spas team, took center stage outside FOX's Manhattan studios to highlight Michael Phelps Chilly GOAT Cold Tubs by Master Spas. 
The live segment on FOX & Friends shed light on the exceptional features of the Chilly GOAT Cold Tubs and delved into the numerous health benefits of cold water immersion.
Bedell, a well-known TV personality and home improvement expert, has been a consistent advocate for Master Spas and its innovative products. This marks his third appearance on FOX & Friends showcasing Master Spas' offerings, with previous segments in September 2022 and November 2020.
During the segment, Bedell discussed the features that set Chilly GOAT Cold Tubs apart from traditional cold tubs. From the 2.1-horsepower chiller to the built-in seats and armrests, the cold tubs are designed to provide users with an unparalleled cold water immersion experience. Bedell discussed the Chilly GOAT's advanced technology, which allows for precise temperature control, ease of maintenance, and durability.
Master Spas collaborated with legendary swimmer Michael Phelps on the cold tub. The 23-time gold medalist has incorporated cold water therapy into his recovery for many years. 
More than just a showcase of features, the FOX & Friends segment underscored the advantages that cold water immersion can offer. 
"Cold water has so many health benefits," Bedell said in the segment, adding that it can support immunity, improve circulation, reduce inflammation, enhance recovery, and even boost mental clarity.
As part of the segment, the Master Spas team — including Kevin Richards, Vice President of Sales and Marketing, along with Ben Gilliam and Mari Cuticelli — took part in a live cold water immersion experience. 
Excitement around Master Spas and Chilly GOAT Cold Tubs continues to grow, as the company announced the upcoming unveiling of their latest Chilly GOAT model. Building on the success of its launch, this new model promises even more features and therapy that are sure to captivate both athletes and wellness enthusiasts alike.
The new contrast therapy tub is a dual-temperature tub that features a dedicated hot tub, complete with massage jets. The other side is ideal for cold water immersion. Each side of the contrast therapy tub has a circulation pump with UV light for filtration, SoftTread non-slip comfort flooring, and LED lighting.
Production on the newest cold tub from Master Spas will begin in October.
Michael Phelps Chilly GOAT Cold Tubs by Master Spas launched in July 2023. For more information about the Chilly GOAT Cold Tub, visit www.ChillyGOATtubs.com.
About Master Spas
Master Spas is based in Fort Wayne, Indiana, 90 miles northeast of Indianapolis. Operating out of a state-of-the-art, 614,000-square-foot manufacturing facility on a 45-acre manufacturing campus, Master Spas is the largest swim spa manufacturer in the world, and largest portable hot tub manufacturer that makes 100% of our product in the USA. The company's executive team boasts more than 200 years of spa manufacturing success and one of the strongest track records in the industry. For more information, please visit: www.MasterSpas.com.
---